Erin Aquin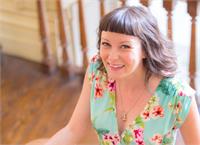 Erin has been passionate about sharing yoga since she was 20 years old. She is a Certified Hatha Vinyasa and Pre-natal Instructor and a Practitioner of Acupuncture and Chinese Medicine, who began formally teaching in 2003. In 2006, Erin completed a second 200+ hour Advanced Training in Montreal with two inspirational teachers from two different traditions, Mark Darby and Hart Lazer. It was this experience that inspired her to blend different forms of yoga and make it accessible and enjoyable for as many students as possible.
As a senior teacher at De La Sol, Erin has teaches a specialized brand of Yin Yang Yoga that bridges vigorous flow sequences, long held postures and meditation with concepts of Chinese Medicine and modern spirituality. She is thrilled to be part of the De La Sol community and in her time not teaching at the studio she works with students worldwide through her articles and videos at www.aquinyoga.com.
Among Erin's favourite yoga poses is Bakasana (Crow). It took almost 7 years to earn it and it feels great to fly!
Erin Aquin instructs the following: