Heather Elson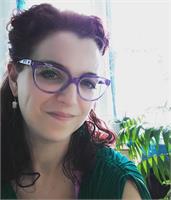 Heather Elson came to yoga practice in 2002, seeking a balance in a life brimming with full time work and a university course load. After the experience of her first savasana, Heather called her mom from the nearest payphone, enthusing, "you gotta try this yoga thing!" By 2005 Heather was trained as a Kid's Yoga teacher, and by the middle of 2006 she was certified by Ron Reid and Diane Bruni at Downward Dog. Diving deeper still, 2007 saw her complete an advanced training in Restorative Yoga with Hali Schwartz, and open her own studio in Toronto's west end. By way of a long, rich and meandering journey, Heather returned to her hometown of Hamilton in January of 2015, pregnant with her second son, and practicing headstand in the backyard right up until he made his appearance! Heather is thrilled to join the De La Sol community, and looks forward to breathing with you. Come and let her sing you into savasana! Favourite pose: Legs up the Wall. Gloriously good for you and so delicious!
Heather Elson instructs the following:
A gentle and nurturing practice that uses props, such as bolsters and blankets, to support the body in deep relaxation. Postures are held for longer periods of time in order to stimulate the parasympathetic nervous system and to encourage the body and mind to experience peaceful surrender.

This class is for all levels




Got big plans for 2018?Is this the year to set your dreams into action?Yoga Nidra can help turn your wishes into reality.You will create a sankalpa - your heart's highest rule- an intention, and then work with it over the course of 2018 to potentially create real transformation in your life. Yoga Nidra helps to develop new neuro-pathways on the deepest level.We will harness the power of the new moon to give our intentions even greater strength.All ages. All levels. All abilities.




A non-athletic style of practice suitable for those with injuries or mobility issues. A supportive and intelligent approach to gently opening the body, learning to breathe more efficiently and relieving the mind of stress and tension.