Katie McClelland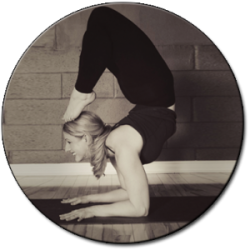 Studio Owner & Director
Yoga Asana, Teaching Methodology & Chakras
Katie has been teaching yoga full time since 1997. She likes to joke that she was 'certified' to teach yoga while still in the womb, as her mother went through yoga teacher training while pregnant with her!


Katie's passion for yoga began in David Swenson's first Ashtanga Yoga Immersion when she fell in love with the intense, athletic nature of the Ashtanga Yoga practice. Since then, she has studied with many inspiring and renowned teachers in the Ashtanga, Iyengar and Anusara yoga traditions. Most notably, Katie studied with the grandfather of Ashtanga Vinyasa yoga, Sri K Pattabhi Jois, for five months in Mysore, India.


Katie opened De La Sol Yoga Studios with the intention of creating a vibrant yoga community; bringing together like minded people to practice, share ideas, raise money for charitable causes and contribute to the greater good of the Hamilton Community.


Katie loves a yoga practice that challenges her body, focuses her mind, opens her heart and strengthens her connection to soul. It is these kind of experiences that Katie and her wonderful staff of teachers bring to each student at De La Sol Yoga.